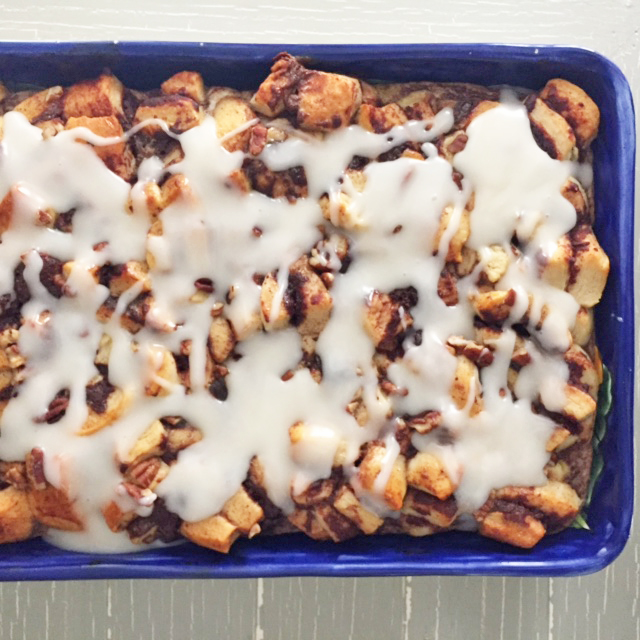 Breakfast in our household is typically simple and healthy. A few times a year we do the complete opposite and live large. For Thanksgiving morning I tested out this cinnamon roll french toast dish and saying it was delicious would be a serious understatement. It made enough to feed 9 with leftovers and is the perfect holiday morning treat. Pair with a mimosa or warm mug of coffee and you're ready to start your day off on a sweet note. If you have family staying with you during the holidays this would be a a great way to serve a crowd easily!
Cinnamon Roll French Toast Casserole
via mrshappyhomemaker
ingredients:
2 tbsp of melted butter or cooking spray
2 cans of refrigerated cinnamon rolls with icing (icing saved)
4 eggs
1/2 c heavy whipping cream or half and half
2 tsp ground cinnamon
2 tsp vanilla
1 cup chopped pecans
1/4 c maple syrup + 1 tsp
directions:
Heat oven to 375 degrees. Pour melted butter into a 3 quart baking dish that has been sprayed with non stick cooking spray. Separate both cans of dough into 16 rolls; set icing aside. Cut each roll into 6 pieces – place the chopped cinnamon rolls over the melted butter. In a medium bowl, whisk together the eggs, cream, cinnamon & vanilla until combined. Drizzle the mixture over the cinnamon rolls. Sprinkle with pecans; drizzle with ¼ cup maple syrup.
Bake 25 minutes or until golden brown. Cool for 10 minutes. Remove covers from the icing; microwave for about 15 seconds or until thin enough to drizzle. Stir in 1 teaspoon of maple syrup. Drizzle over the cinnamon roll casserole.
Enjoy!
xx