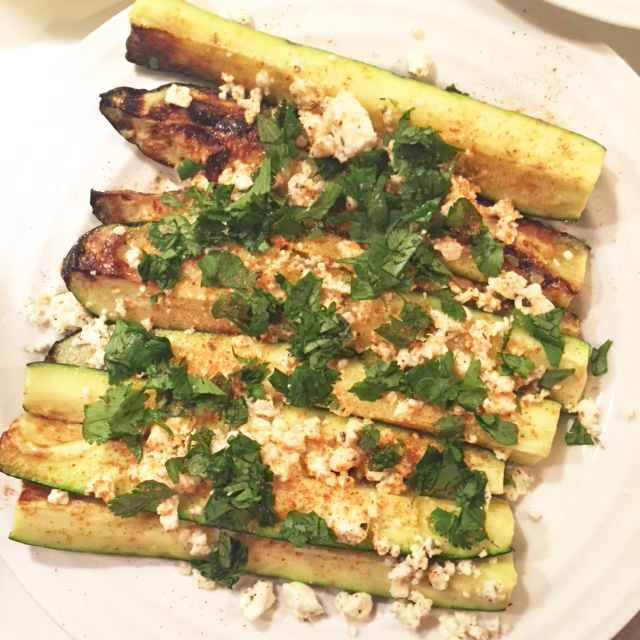 As soon as we moved into our house and were able to grill again we've been going crazy. It's my favorite way to prepare food in the summer and I have so many good recipes to share! As a healthy side option to burgers, chicken or fish, we did a spin on mexican street corn and used grilled zucchini. All of the flavors come together for the best results.
I loosely followed the below recipe and it was still insanely good. Since it's usually just Brian and I for dinner, I use one zucchini per person and have 2-3 'wedges' depending on how hungry we are. For each ingredient below I just eye ball the amount and adjust accordingly. We like it spicy so there's no shortage on the cayenne pepper on ours. This would be great if you're making a mixture of different veggies for a meatless meal!
'Street Style' Grilled Zucchini
via closet cooking
ingredients:
2 lbs zucchini
1 tbsp butter, room temperature
1 tbsp mayo
1/4 c feta, crumbled
1 tbsp cilantro, chopped
cayenne pepper, to taste
1/2 lime, juice
directions:
Slice each zucchini into four wedges, cut lengthwise. Grill zucchini over medium heat for three minutes per side. Once grilled, brush with butter and mayo and top with cheese, cilantro and cayenne pepper. Squeeze a fresh lime slice on top and enjoy!
how I prepare it: I leave out the mayo and butter and lightly drizzle olive oil over the wedges before grilling. We use a grill basket anytime we're cooking veggies to keep them from falling through the grill racks.
Enjoy your street style grilled zucchini!
xx