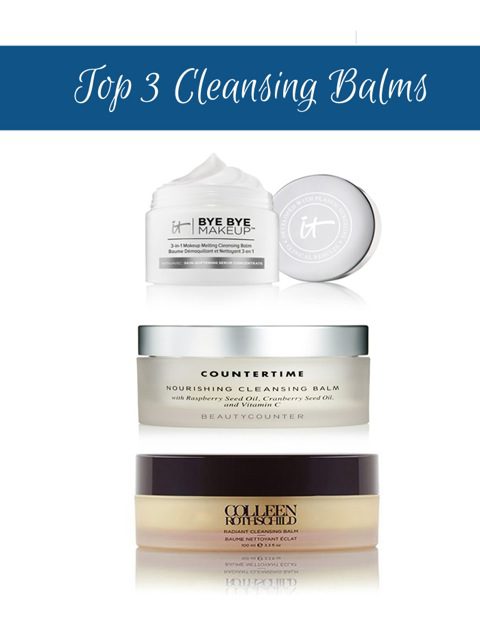 Cleansing balms were something I never would have tried a few years ago. Slather a thick cream all over my face that already was combination/oily? No thank you. Now, I don't go a week without using one. I'm all about simplifying my nighttime beauty routine as long as the products get the job done and do it well. I've tested out a handful of balms on the market and these three are my ride or die choices. Yes, they may be more than your average face wash or makeup remover, but I promise it is worth it in the long run when you aren't scrubbing your eyes to get that stubborn eye makeup off (and losing valuable lashes while you're at it).
Think of cleansing balms as a do it all product — makeup remover, cleanser and hydrator all in one. When you massage the oil into your skin you're increasing circulation while the balm sinks into the skin and disrupts any dirt/oil, pulling it from the pores. The three options above are really gentle and good for your skin. To apply: take a tiny, dime size amount and rub it into your dry skin. The heat from your body will warm the mixture and thin it out as you cover your face. I like to use a warm muslin cloth (or washcloth) to gently rinse it off afterwards. A little goes a long way with all of these, so these jars will last you months!
It Cosmetics Cleansing Balm: This is the new kid in the group but it's an awesome, budget friendly option to start with. This balm feels the most hydrating of the bunch, but isn't heavy or pore-clogging. My skin always feels like it took a giant gulp of water after washing with this.
Beautycounter Cleansing Balm: One of my favorite skincare secret weapons is Vitamin C. I use this serum everyday under my sunscreen and face moisturizer, but love that this balm also has it in the product to help brighten while cleansing. The raspberry and cranberry seed oil also gives it a nice, subtle smell. This one comes with a 100% muslin cloth which I love to use only with my balms. They're super lightweight, breathable and hold up well wash after wash.
Collen Rothschild Cleansing Balm: This was actually one of the first cleansing balms that I tried and it still remains one of my favorites. Like the Beautycounter balm, this one also includes a reusable muslin cloth. I like to spread the balm over my dry skin, wet the muslin cloth with warm water and drape it over my face for 1-2 minutes for a quick facial at the same time. Then, wipe your face with the cloth and rinse!
xx