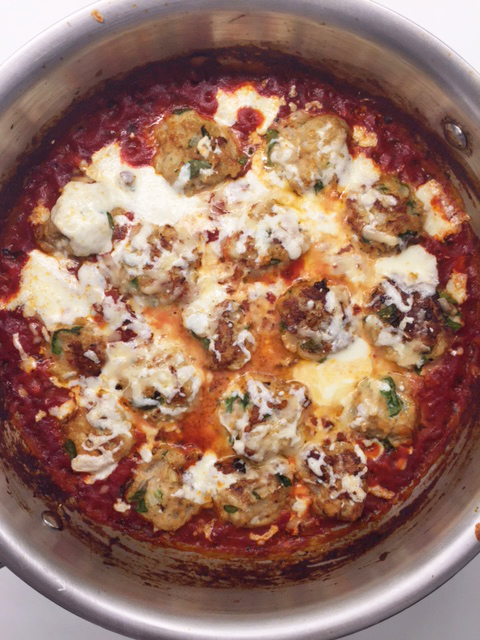 Italian style food is always one of my favorite comfort foods. When does pasta and red sauce not sounds appetizing? These chicken parmesan meatballs are baked in an easy, homemade tomato sauce and make for a great weeknight dinner. Any leftover meatballs would be awesome toasted in a sub for lunch the next day!
We served ours with the mushroom risotto from Trader Joe's that a breeze to cook and so delicious!
Chicken Parmesan Meatballs in Tomato Sauce
via spoonful of flavor
sauce:
1 tbsp olive oil
1/4 c chopped yellow onion
1 tbsp tomato paste
1 clove garlic, minced
2 tbsp fresh parsley, chopped
2 tbsp fresh basil, chopped
1 tsp dried oregano
1/2 tsp red pepper flakes
1 28 oz. can crushed tomatoes
1/4 c heavy cream
meatballs:
1 lb ground chicken
1/3 cup chopped spinach
1/3 cup dried bread breadcrumbs
1/4 cup diced yellow onion
1/3 cup + 2 tbsp grated Parmesan
3 cloves garlic, minced
1 egg, lightly beaten
2 tbsp olive oil
4 ounces shredded mozzarella
salt & pepper, to taste
directions:
First we're going to make the tomato sauce. In a large skillet heat the olive oil over medium-high heat. Once simmering, add the diced onion and cook for 1-2 minutes. Add in the tomato paste, garlic, parsley, basil, oregano and red pepper flakes for just under a minute. Stir in the crushed tomatoes, turn the heat to low and cook for 6-8 minutes to let the sauce thicken. Turn the heat off and mix in the cream.
Turn the oven on to 400F. For the meatballs, in a big bowl combine the ground chicken, spinach, bread crumbs, onion, 1/3 cup Parmesan cheese, salt and pepper, garlic and egg. Use your hands to make sure the mixture is evenly combined. Roll the chicken mixture into small meatballs. In a large skillet heat olive oil until simmering. Gently add in the meatballs one at a time and cook until browned on all sides. They will continue to cook in the oven, so it's ok that they're not completely cooked through at this time. Then put the meatballs in the skillet with the tomato sauce. Top with mozzarella and Parmesan cheese. Bake for 15-20 minutes, or until the meatballs are cooked through and the cheese is melted.
xx