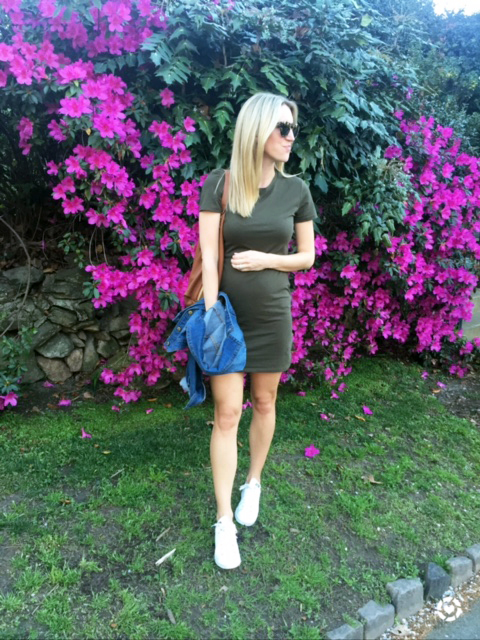 Navigating pregnancy for the very first time can be tricky. You need to pick up a few pieces that will accommodate a changing body, but you don't really know how long that item will last or if it'll even be worth the purchase. The past 7 months I've been focusing on finding budget friendly pieces that are either non-maternity, or maternity but that are worth it. Who wants to spend tons of money on clothing you only wear for a short period of time? Below are my pregnancy must haves that have carried me through the first trimester changes and are still sticking with me as I'm about to start the third.
[CLOTHES]
As much as you'll think you can avoid maternity jeans, they're inevitable. Instead of buying multiple cheap pairs, spend money on a pair that are good quality, trust me. You'll wear them to death and will be so much more comfortable than trying to make the hair tie/button trick work. I ordered this ankle length pair towards the beginning and haven't looked back. They're comfortable and look just like my other styles by the brand. This ankle length white denim option I've been getting major wear out of now that it's spring.
A great new bra is also likely going to be in your future because hello growing boobs! I've been living in these comfy bralettes that keep the girls in place but make you feel like you're not even wearing anything. Size up, they do run small!
Basic tops and tanks are easy because they can mix and match with so many pieces. The longer length of these tees are great for covering the bands on maternity jeans and the side gathering grows with your bump. I had to order the stripe version too, naturally. I love to pair tanks with open cardigans/sweaters and this style is so soft (and always on sale!) and again, nice and long. This seamless cami is also really comfortable under shirts and sweaters for layering.
My go-to outfit now that's it warm are dresses and comfortable skirts. I sized up one in this jersey dress and this skirt is one of my favorite recent finds. It pairs perfectly with a tank or tee knotted above the bump. Seriously so cute! This patterned dress from instagram is also non-maternity but works so well with a bump. I want it in the coral too!
[OTHER] Brian actually picked up this body pillow for me and it's been amazing! It's definitely not small, but it's been wonderful for added support and I love the curved portion for between my knees. As someone who was a stomach/back sleeper it's been quite the adjustment sleeping only on the side.
I've shared these before, but these daily prenatal vitamins are the best I've found. They're a little more expensive, but the ingredients are all non-gmo, raw whole foods and super gentle on the stomach. These are the only vitamins I've ever been able to take on an empty stomach and not have any nausea. Everyday I also take two of these DHA vitamins for added omega-3 benefits.
I alternate between this EO lotion (I pick it up at Whole Foods) and this belly butter each day/night to help keep skin moisturized and hopefully keep stretch marks at bay.
xx