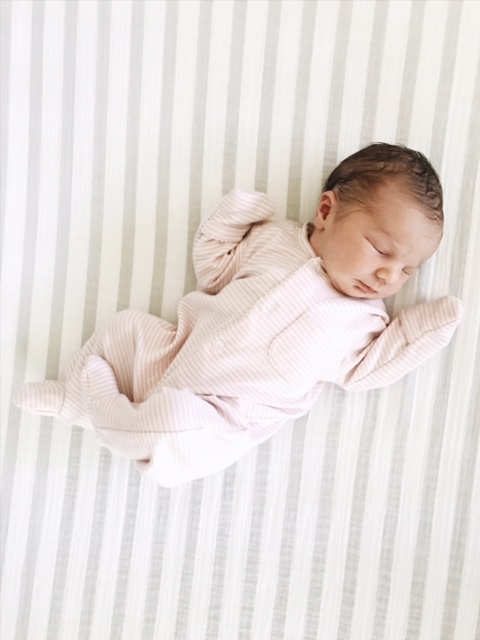 I'm still on cloud 9 now that our precious little babe is here! Olivia Rutledge Greenwell was born on Friday, July 28th at 10:11 pm and was 7 lbs 4 oz, 19 inches long. Brian and I loved the name Olivia from the beginning and while we tried to brainstorm backup names that we also loved, nothing seemed to compare. Rutledge is the name of the street in Charleston where Brian and I met and when Brian suggested using it as her middle name, it was the perfect fit.
Looking back on 10 days ago I had absolutely no idea just how the day was going to unfold in the best (and partially scariest) way. I had a doctor's appointment that Friday morning since I was one day past my due date and was meeting with the only physician in the practice that I hadn't seen previously. They like you to see them all so that when you go into labor you'll already have the met the doctor on call. As fate would have it, the first time I met that physician was also the day she told me we were having a baby and she'd be delivering her. In total first time mom behavior, at that doctor's appointment I was unaware of contractions that I was having and the fact that my water had broken. I guess I had been waiting for intense contraction pains  and a big gush of water breaking just like in the movies? Disclaimer: it's often nothing like that
As soon as she told me we were having the baby that day I called Brian at work, headed home (while my heart was racing) to meet him, grab our bags and head back to the hospital to check-in. We even managed a Chik-fil-a stop on our way back since we knew it would be a while before we'd be eating again. Not that I had near enough a calm stomach to even think about eating… I was far too anxious/excited/nervous. After getting set up in our Labor and Delivery room we attempted to pass the time watching tv and trying to focus on anything but the oncoming contractions (at this point I 100% was feeling them). At around 4 cm dilated I requested the epidural and after that it was pure bliss. For anyone that goes through labor naturally without one, I admire and respect you so much!
Our parents came to the hospital around 8 pm since the doctor told us it would likely be 2-3 am Saturday morning before I delivered Olivia. Fast forward an hour and a half later and after checking my progress, was told I was 10 cm dilated and we'd start pushing in the next few minutes! Honestly I had prepared myself for a long labor since I'd frequently heard that was often the case for first time moms. A quick 15-20 minutes later and Olivia was born! Everything up until this point had been a breeze; the pain I expected to feel was masked by the epidural, our little girl was healthy and it was a quick labor.
This is where things got complicated.
Time passed and I hadn't delivered the placenta like I should have. The room went from 4 of us, to 10 and I could tell that something was wrong. I was hemorrhaging and they quickly called in an extra unit of blood since they couldn't stop the bleeding. We were walked through the options of how we could stop the bleeding and thankfully the first option of using a balloon filled with saline to expand and stop the bleeding worked. There were nurses that came into our room and checked on me every hour throughout the night and if the bleeding hadn't stopped the next plan of attack was to head to the operating room. I slept all of 30 minutes that night and felt like I spent the entire night afraid to move and that something would go wrong. So many prayers were answered that night and I'm forever grateful.
Despite that scary setback, everything about that Friday and the days after were some of my absolute favorite. We couldn't have asked for better nurses to be with us during our two days in the hospital and for our physician to be who she was; God knew what He was doing and had a plan for our little family. I would go through it all again in a heartbeat if it would bring me to where we are today.
Thank you all so much for the love that you've shown since she's arrived! I'm excited to share this next chapter with y'all.
xx