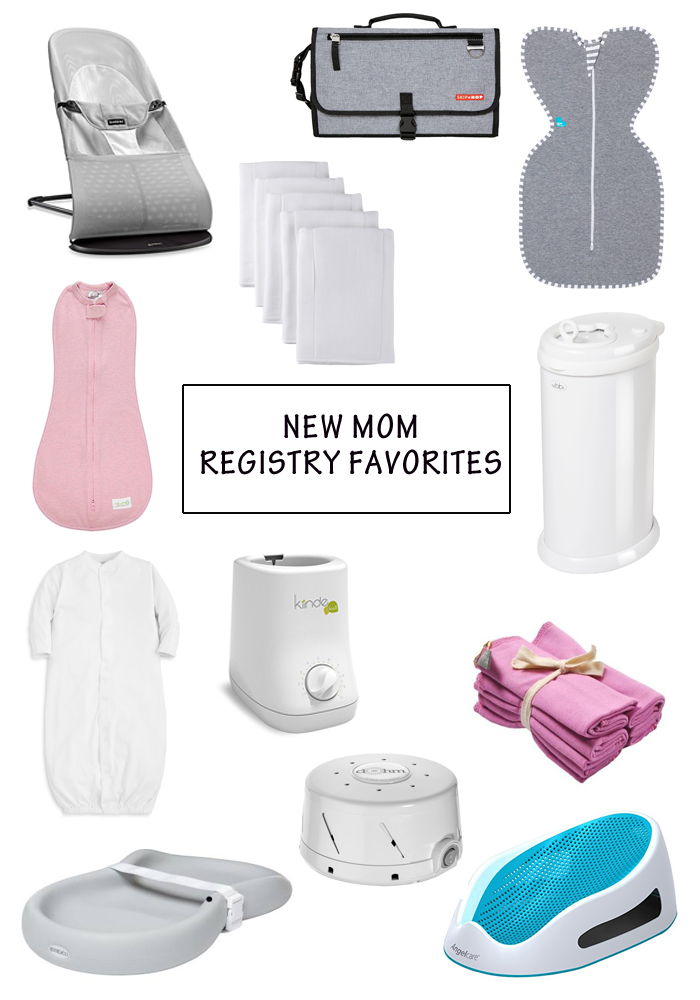 Building a baby registry as a first time mom is completely overwhelming. There are twenty different kinds of bottles, fancy bathtubs that seem to do it all and just so.many.things. I spent what felt like hours researching the best of each product and reading all the reviews to help me decide. I thought I'd pass along the best of the best baby registry items (so far) that we've loved and found helpful when navigating newborn life.
BabyBjorn Bouncer  I mentioned my love for this on Olivia's 2 month update here. Go for a dark color instead of the grey I have… trust me
Dockatot: a trendy item, yes,  but it's so worth it in my opinion. We love moving this around the house to let Olivia sleep in and also pack it with us when we travel. The cover easily zips off and can be tossed in the wash for any stains.
Skip Hop Changing Station: this changing pad set is awesome when you're on the go. It unfolds and has a wipeable surface area that you change on and pockets for diaper and wipe storage. We keep ours in the car and in my Fawn bag.
Love To Dream Swaddle: Olivia has seemed to like this swaddle best the past few weeks. It allows for some arm movement up by her face (which she loves) but keeps those startle reflexes that would normally wake her up in check. Big fan of the zipper that opens from the bottom for those middle of the night changes.
Cloth Diapers: we use disposable diapers, but add a pack or two of cloth diapers to your registry. They make great burp cloths, rags to wipe up spills/spit-ups and are really just a workhorse item. I like these 5 ply ones for extra durability.
Woombie Swaddle: this swaddle, or 'straight jacket' as our family and friends call it, is perfect at re-creating that snug, womb-like feeling. This one also zips up from the bottom.
Ubbi Diaper Pail: diapers stinking up a nursery is something I'd like to try and minimize as much as possible. This diaper pail is compact and sleek and blends into the nursery space instead of sticking out like a sore thumb. Major bonus that you can use any regular trash bag for this pail!
Kissy Kissy Convertible Gown: Brian would only dress Olivia in these gowns if it were up to him. They're the easiest clothing option for diaper changes and easily convert from a gown to pants if you need to hop in the car and buckle them in the carseat.
Kiinde Kozii Bottle Warmer: at first I wasn't 100% sure this was something we'd need since I'm breastfeeding, but it really makes the bedtime bottle feeding so much easier. If you have family or friends babysitting this keeps things super simple for them too!
Kyte Washcloths: softest washcloths ever. Actually anything by this brand is amazing, but during bath time I love these for cleaning baby soft skin, especially her face. They hold up really well wash after wash and are worth it!
Peanut Changing Pad: anytime someone asks our favorite baby item so far, we both say this changing pad. I already feel like I do laundry daily and adding in a changing pad cover and liners sounds like unnecessary extra work. Love that this pad is impermeable to liquids and limits bacteria growth.
Marpac Dohm Sound Machine: we sleep with one of these every night, so it was a given that baby G would be getting one. We turn it on the loud setting for all naps and at night and the white noise helps block out any outside sounds that could prevent her from sleeping.
Angelcare Bathtub: skip the fancy bathtubs that are overpriced and just keep it simple. This one is easy to clean, mold resistant and an awesome price. We keep a clear hook in the shower and just hang it up after each use!
I'd love to hear some of your baby registry favorites!
xx