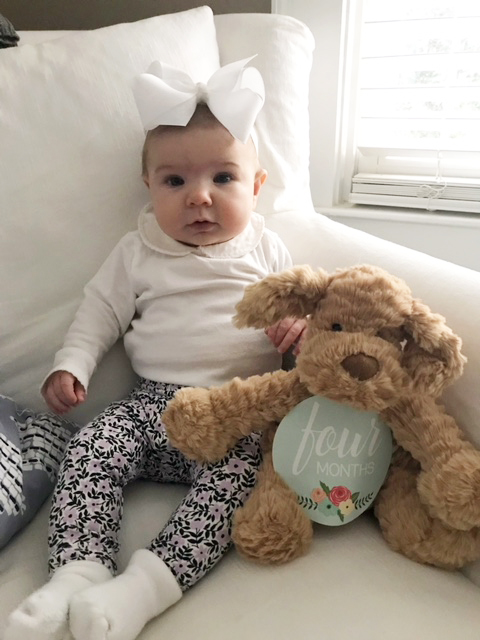 4 months with our sweet little Olivia and her personality is coming out more each week. We started getting baby giggles over the past month and they are the BEST. Is there any better sound than that? I have a few videos of her giggling on my phone and never get tired of watching them. Since her 3 month update we've celebrated Halloween and Thanksgiving and it's true what they say, holidays with a little one are even sweeter. The picture above makes me laugh because I could not keep Olivia still; she was looking every which way, pulling on the pillow, putting the dog ear in her mouth, etc.
Olivia has discovered her favorite toy, her hands, and is constantly putting them in her mouth. Over the past week she's also become a thumb sucker (so cute, but I'm already imagining the troubles that'll present down the road) and stomach sleeper. As soon as I put her on her back for naps and at night she's rolled over to her stomach within a matter of minutes. It stressed me out the first few times, but I have since accepted that's how she likes to sleep best. We've been using this fleece sleep sack and this super soft Kyte version for naps and overnight.
FOUR MONTH FAVORITES:
+ Baby Einstein Take Along Tunes Toy : This musical toy is always in my purse. Between the bright colors, flashing lights and music it makes for an awesome distraction for a fussy baby!
+ Teethe & Read Toy: Crinkle books are currently her favorite! These also have teether tabs on the corners that are perfect for teething babies. I love that they're easy to clean and can just be wiped down. I'm picking up two of these 'tail' books for part of her Christmas gifts.
+Aden & Anais Bandana Bibs: Keeping with the teething trend… her drooling has definitely increased and these bandana bibs have been lifesavers for keeping clothes dry!
+ Clothing: I just discovered Joe Fresh's baby clothes and they're so cute! We have a few pairs of their leggings and they fit Olivia really well (the ones she's wearing above are from there). I love this adorable pair for winter! This little snuggly jumpsuit is perfect for colder stroller walks and is absolutely precious on.
+ Weleda Baby Products: We've been using all Weleda baby products and love that they're organic, free of synthetic fragrance and gentle enough for sensitive skin. With the drier weather this face cream has been a game changer, this shampoo and body wash we use for every bath and then follow up with this diaper cream and calendula body lotion.
xx