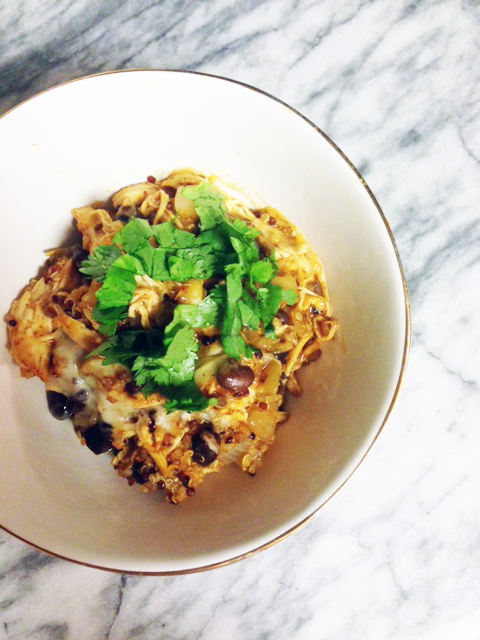 My love for mexican food runs deep. This quinoa bake is a delicious spin on chicken enchiladas (hold the tortilla) and the fresh cilantro really makes the dish pop. It's super filling and packs a protein punch with the chicken, black beans and quinoa. My avocado wasn't ripe or I would've thrown some slices on there. Do me a favor and add some to yours, because it's the icing on the cake.
Chicken Enchilada Quinoa
via tablespoon
ingredients:
2 tbsp olive oil
1 small onion, finely chopped
2 1/2 c cooked quinoa (prepare according to bag)
1 1/2 c shredded & cooked chicken breasts (could also use a rotisserie chicken)
1 can (15 oz) black beans
1 can (4.5 oz) chopped green chiles
1 tbsp chili powder
2 c enchilada sauce
1/2 c shredded sharp cheddar cheese
1 c shredded pepper jack cheese
optional:
sour cream/greek yogurt, sliced avocado, fresh cilantro
directions:
Heat oven to 350 degrees F. Spray an 8 inch square or 13×9 in baking dish with non-stick spray. Heat a large skillet over medium heat. Add oil and onion and cook 5 minutes or until onion is soft. Reduce heat to low and add in quinoa, chicken, black beans, green chiles, chili powder and 2 cups of enchilada sauce. Stir to combine and remove from heat. Stir in the cheddar cheese. Transfer quinoa mixture to baking dish and top evenly with pepper jack cheese. Bake 10-15 minutes. Turn oven to broil and broil 1-2 minutes or until cheese is golden and bubbly. Remove from oven and top with any of the optional toppings.
Enjoy!
xx