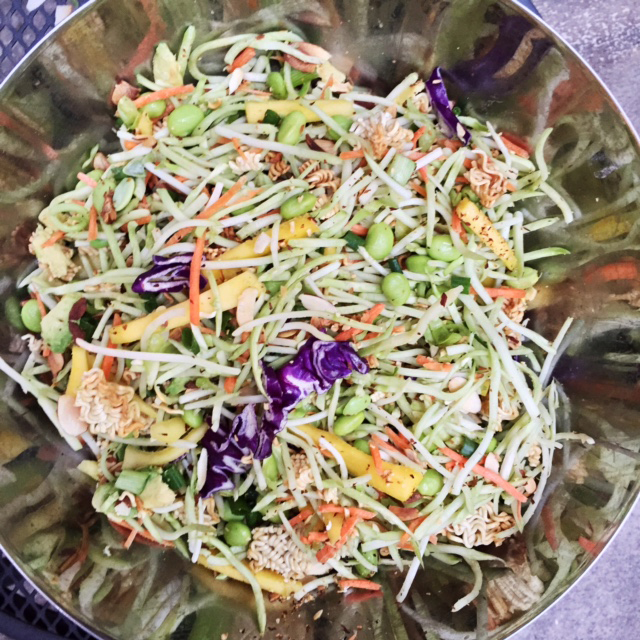 Y'all, this salad. So.freaking.good. I always love a little crunch in my salad and this has just that with the toasted almonds and the ramen noodles. Side note, who knew ramen noodles were only 22 cents?! No wonder college kids love them. We served this salad as is, but if you're craving some extra protein it'd be delicious with some marinated grilled chicken or shrimp over it. It makes a good amount, so prepare for leftovers and I would recommend pouring the dressing over each salad when you're ready to eat.
Crunchy Asian Ramen Noodle Salad
via gimme some oven
ingredients:
1 16 oz bag of coleslaw mix
2 (3 oz) packages of ramen noodles, crumbled (not using the seasoning packet)
1 cup shelled and cooked edamame (we picked up the easy bag from Trader Joes)
1 avocado, diced
1 mango, peeled and julienned
1/2 cup thinly sliced almonds
1/2 cup thinly sliced green onions
Asian honey vinaigrette

Asian Honey Vinaigrette:
2/3 c olive oil
1/3 c honey
1/3 c rice wine vinegar
2 tsp soy sauce
1/4 tsp sesame oil
pinch of salt & pepper
directions:
Optional first step (but so good!): Heat oven to 425 degrees. Spread the crumbled ramen noodles and sliced almonds out on a baking sheet and stir to combine. Bake for about 5 minutes, or until the almonds and noodles are slightly toasted and golden. Remove baking sheet, and give the mixture a good stir to toss. Then return it to the oven and toast for an additional 3 minutes. Keep a very close eye on the mixture so that it does not burn. Remove and set aside.
Combine all ingredients into a large bowl and stir to combine. Top with dressing and enjoy!
xx
I just realized I should probably have shared a festive Cinco de Mayo recipe.. oops. These are my favorites if you need some inspiration for dinner tonight >> crockpot tacos / homemade salsa / Enchilada Quinoa