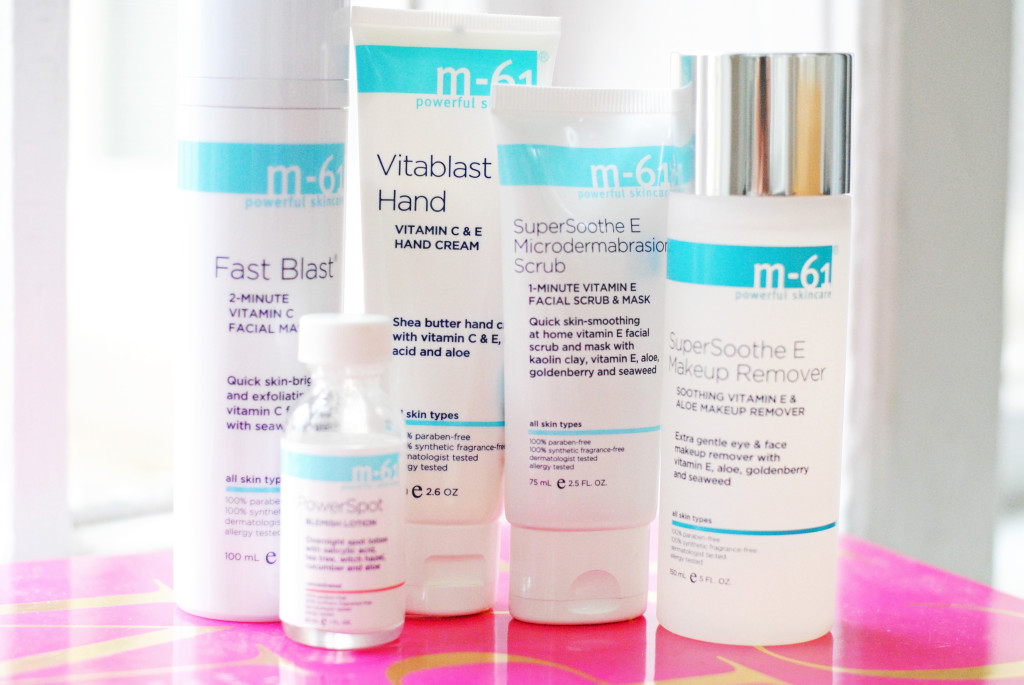 I first discovered Bluemercury when I lived in Charleston, SC and was on the hunt for a skincare and makeup shop since there's no Sephora in the city. Count me as a fan ever since! Atlanta has a Bluemercury and it's so much easier than fighting the mall traffic when you are just running in for a few things. I've been eager to try their M-61 line that was created by Bluemercury co-founder Marla Malcolm and have rounded up a few favorites that I've tried so far. These products are made without parabens, sulfates, dyes or synthetic fragrances and truly get the job done.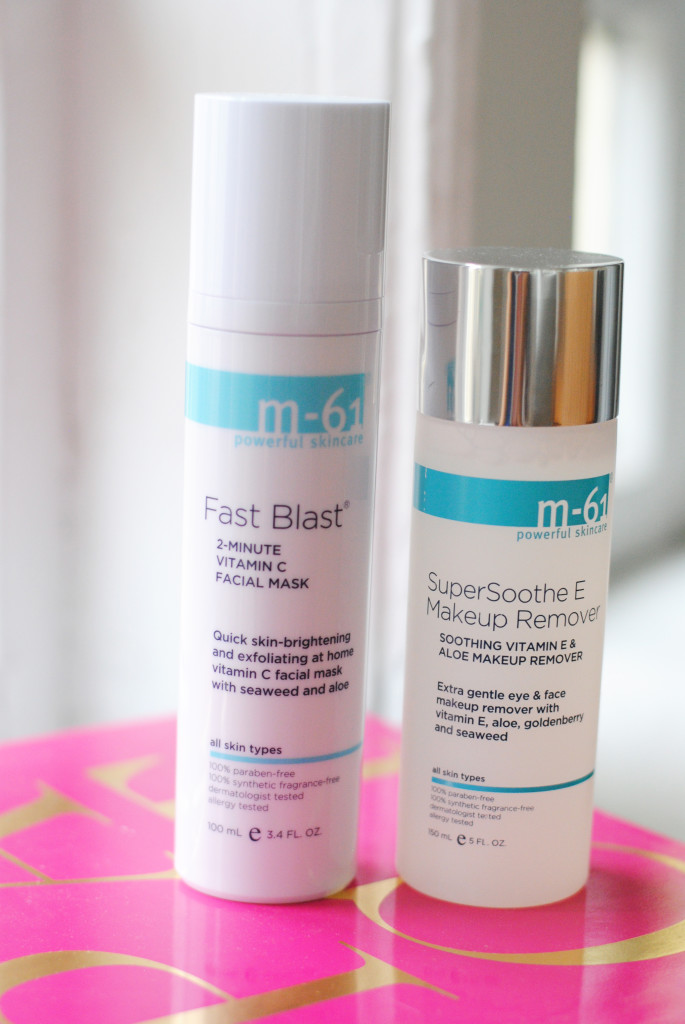 M-61 Fast Blast: There are days when I love a good, leisurely mask that you leave on for 30 minutes and just relax. There are also times when I need a mask that will get the job done quickly. I'm a huge fan of brightening and vitamin C products since they're so good for your skin! I typically use this 1-2 times a week after cleansing my face and I've loved the results. Who doesn't have 2 minutes to brighten and refresh their skin? Put this on while you make your morning cup of coffee or at night while you brush your teeth. Easily a favorite new mask of mine and one I highly recommend!
M-61 SuperSoothe E Makeup Remover: While I love Bioderma, I've been searching for a great makeup remover that was gentle yet effective (and can be easily found stateside!). This SuperSoothe E remover from Blue Mercury works so well! My favorite mascara can be hard for most removers to get off, but this one easily removes all traces of eye makeup and doesn't have me loosing eye lashes from rubbing too hard. The vitamin E in it nourishes the skin while the aloe, licorice root and cucumber cool the skin.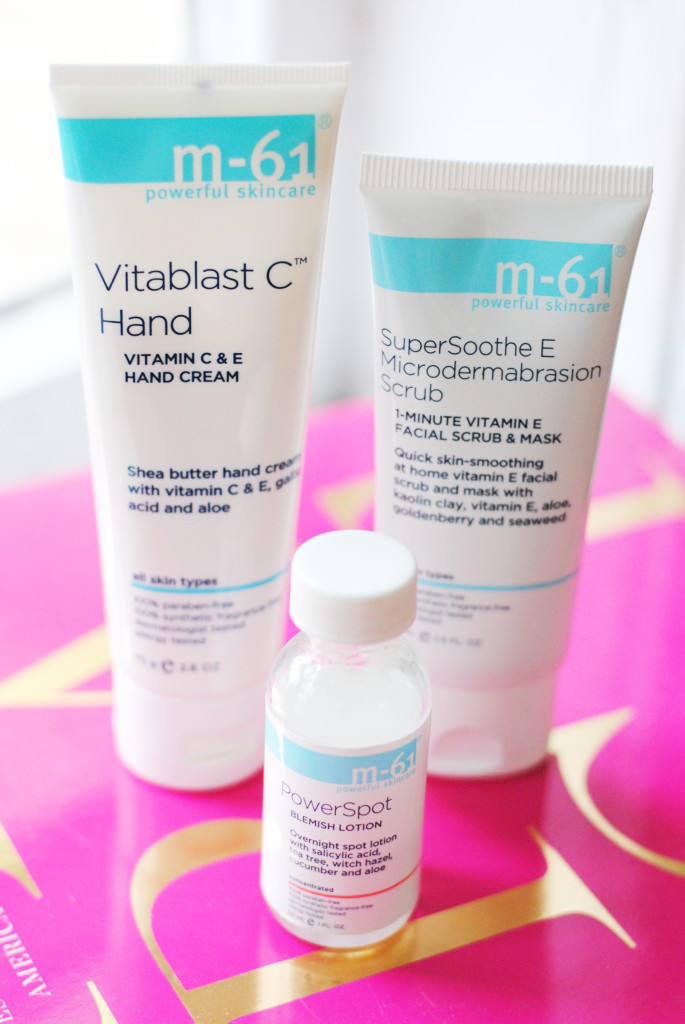 Vitablast C Hand: Now that cooler temperatures are on the horizon, I'm trying to be better about keeping my hands moisturized. Enter flu season and I'm a freak about washing my hands countless times a day to avoid getting sick. The result of that is dry hands. I keep this little bottle in my bedside table and always put it on before bed. It hydrates but doesn't leave you feeling oily. Bonus- it smells delicious! I've also been tossing this in my carry on for pre-flight moisturizing.
M-61 SuperSoothe E Microdermabrasion Scrub: Leading up to the wedding I made it a priority to get microdermabrasion done once a month. It is so so good for your skin and helps improve the overall appearance, fighting fine lines, sun spots and discoloration. This gentle scrub is a great at home option and one I also use 1-2 times a week depending on what my skin needs. This one is 100% paraben and synthetic fragrance free.
M-61 PowerSpot: I've finally mastered a skincare routine that helps keep blemishes at bay, but there are still a few pesky ones that pop up. Dab a q-tip in the bottle and place on your blemish after washing your face and before bed. It'll dry overnight and you wash it off the next morning. This has been a huge help in minimizing any breakouts that occur and I found it actually works better than one I've tried in the past. You may feel a little funky going to bed with white spots around your face, but it beats walking around with tons of blemishes the next day!
M-61 Power Glow Peel: (not pictured) This may just be my favorite item so far. Most people shy away at the thought of a peel (ah! my skin will peel off and it'll burn!), but just like microderm, I made it a priority to get a mild peel monthly before the wedding. I use this after cleansing and to help with uneven skin tone, exfoliation and firming the skin. Wipe the towelette over your face and neck and leave on overnight. I can't sing enough praises for these wipes! Your face won't melt off, don't worry.
This post was in collaboration with bluemercury, but all opinions are my own!
xx