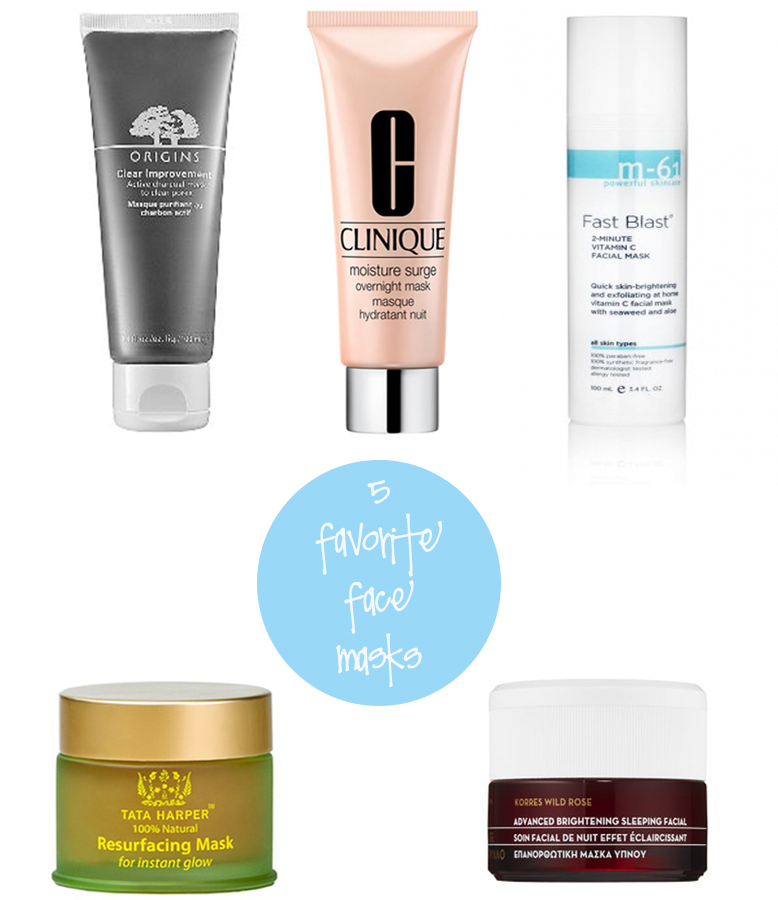 February always brings with it cold temperatures and drying skin for me. I thought today would be the perfect time to share five of my favorite face masks for hydrating and detoxing your skin! No one wants the dull and dry skin that winter brings, so I'm sharing how I keep my skin looking and feeling good with the below treatments.
Favorite Face Masks:
Origins Charcoal Face Mask: I use this more as a spot treatment or to target certain troublesome areas on my face. The charcoal in this is great at unclogging pores and keeping blackheads at bay.
Clinique Moisture Surge: I got this last year for Christmas when my skin was feeling dehydrated and flakey. This works as an overnight masks and I use a dime size amount after putting on eye cream. Leave on overnight and wash off the next morning! This mask always leaves my skin feeling so hydrated, but no greasy.
M-61 Fast Blast: If you read my M-61 full review here then you already know how much I love this mask. Vitamin C is the absolute best for skin and this one is fast and effective. I use this after washing my face and before eye cream and serum. 2 minutes is all it takes and I swear my face is glowing.
Tata Harper Resurfacing Mask: A little more expensive, but one of my absolute favorites. Tata Harper products always work wonders on my skin and I love that they're all natural. I use this mask once a week and it truly leaves my skin looking better and brighter. This is a great one to switch off with the M-61 Fast Blast.
Korres Sleeping Facial: Most of the time my skincare goal is brightening. This overnight facial not only smells divine, but helps even out skin tones and any dark spots. I love this masks for nights when I'm too tired to go through an entire beauty regime and just want to put something on quickly and hit the sack. It also works great when you've had one to many cocktails. Take your makeup off and slather this on  before bed. Wake up with better looking skin even when you may not be feeling your best. 😉
What're your favorite tried and true face masks?
xx