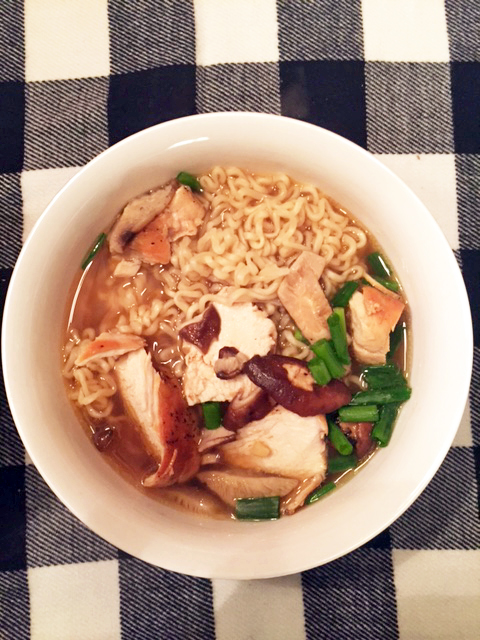 Homemade ramen soup is one of my absolute favorite comfort foods and one that gets made even more when the weather is cold and rainy like it has been lately. This recipe is easy to make and perfect for a weeknight dinner. Searing the chicken on the skillet before sticking it in the oven makes such a delicious finish. It's buttery and perfectly cooked, so don't skip that step!
We always top our ramen soup with a soft boiled egg and call it a meal. It's so so good!
Homemade Ramen Soup
via fork knife swoon
ingredients:
2 chicken breasts, boneless & skinless
1 tbsp unsalted butter
2 tsp sesame oil
2 tsp fresh ginger
3 tsp fresh garlic, minced
2 tbsp low-sodium soy sauce
2 tbsp mirin (I never use this)
4 cups chicken stock
1/2 c fresh mushrooms (I like crimini in this!)
2 large eggs
1/2 c scallions, sliced
2 (3 oz) pack dried ramen noodles
1 jalapeno, sliced (optional)
directions:
Heat the oven to 375 degrees. Rub each side of the chicken breasts with salt and pepper. In an oven-friendly skillet melt the butter and add the chicken. Cook for 6 minutes on the first side, flip and then cook for another 5 minutes. Place the skillet in the oven and cook for 15-18 minutes, making sure the chicken is cooked through. Set aside.
To make the broth, heat the sesame oil and add the garlic and ginger to the pan, stirring for a few minutes. Drop the soy sauce and mirin and stir. Next, gently pour in the chicken stock and heat to boil. Let simmer without the lid on for 5 minutes and then add in the fresh mushrooms. Heat on low for 10 more minutes and set aside.
If adding soft boiled eggs (they're delicious!) now is the time to make then. In a saucepan fill enough water to cover the eggs and bring the water to a boil. Add the eggs to the pot and let summer for 7 minutes-8 minutes, depending on how firm you like your yoke. After the eggs are finished cooking, place in a bowl with ice to let cool. Peel after 6-7 minutes.
Don't dump the water from the eggs out! Keep the water boiling and add in one package of the ramen noodles (you're not using the seasoning packet, just the dry noodles). Cook for 2-3 minutes and then place the noodles into a soup bowl. Add in the next pack of noodles, cook 2-3 minutes and add into another soup bowl.
Top the noodles with sliced chicken, broth mixture, fresh scallions, jalapeños and the egg.
Enjoy!